About
Established 1900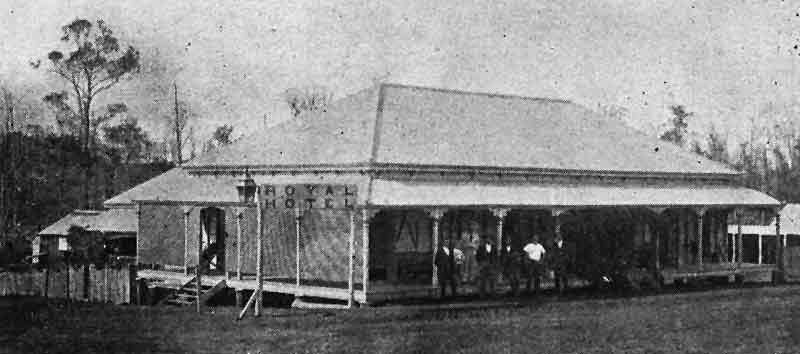 The Royal Hotel Kalbar circa 1910
Fond Memories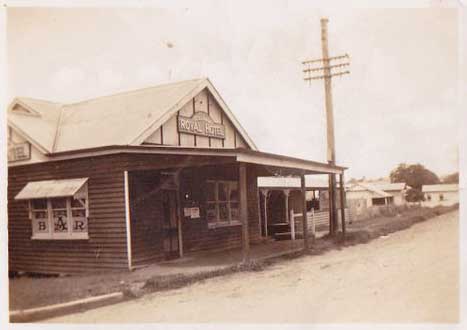 From Pam Ogg:
"I was in Kalbar yesterday and called into the pub for a nostalgia trip. As a child and young teenager I spent many a happy visit at the hotel and have very fond memories of the same.

My Dad was an army buddy of Jim O'Callaghan (the publican from around 1946 to 1962/3 approximately) from World War 2 and as far as I can work out this photo would have been taken just after the war, possibly 1946.

On my visit yesterday I spoke to a gentleman called Bruce in the Bar and he suggested you might like to see the photo. The ladies working there were also very kind and showed me around. I must congratulate you on the new dining room and the improvements you have made."

Taken by Pam Ogg's parents with a Brownie Box circa 1948. Depicts the publican Jim O'Callaghan with his eldest son Michael at the side of the hotel.
Licencees – 1975 to present
| | | |
| --- | --- | --- |
| Start Date | Licence Holder | Type |
| 14/04/1975 | Vic Graham | Freehold Owner |
| 16/01/1978 | Errol Doolan | Leasehold |
| 22/01/1979 | William McKee | Leasehold |
| 26//11/1979 | Kenneth Dunn | Leasehold |
| 04/02/1983 | Morris McGuane | Leasehold |
| 05/08/1983 | Vic Graham | Freehold Owner |
| 12/12/1983 | Robert Bradwell | Leasehold |
| 05/02/1985 | Maxwell Terry Hunt | Leasehold |
| 27/09/1985 | Gordon Bardsley | Leasehold |
| 03/02/1987 | Alan Gordon | Leasehold |
| 13/12/1988 | Lex McKeiver | Leasehold |
| 03/07/1995 | Rob Allum | Leasehold |
| 14/10/1996 | Peter Marks | Leasehold |
| 21/02/2000 | Christine Wernowski | Leasehold |
| 29/07/2002 | Leah Jackson | Leasehold |
| 10/11/2003 | Brendan Leeson | Leasehold |
| 01/10/2007 | Timothy Stanford | Freehold Owner |
More information about Kalbar
Scenic Rim Regional Council info page
visitscenicrim.com.au – our communities
scenicrimtourism.org,au -towns of the Scenic Rim